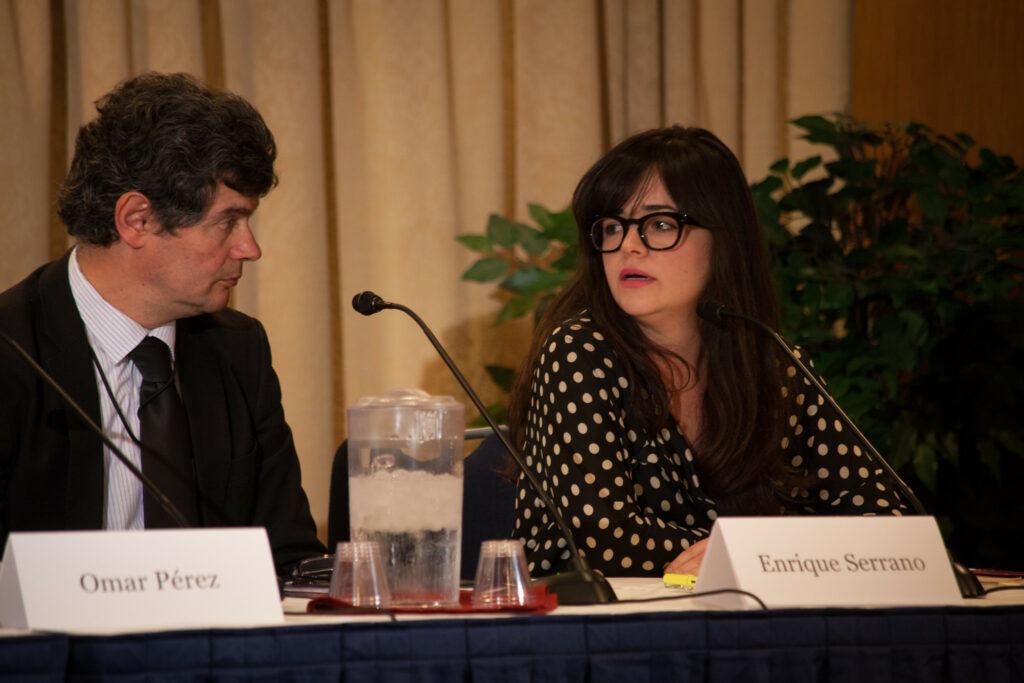 Poetry reading at the Lower Manhattan Cultural Countil Arts Breakfast, alongside her poetry student Glacira Peña. October 2022.
Poetry reading at FILNYC, part of En Contrucción Reading Series. October 2022.
Poetry reading at Off Paradise Gallery alongside Ella Bric, Peter Gizzi and Jason Morris. September 2022.
David Rockefeller Center For Latin American Studies, Harvard University, November 2021. "Perder su mundo y perder el mundo: La poesía y la crisis migratoria venezolana".
Pa Gya! A literary festival in Accra and the International Writing Program. "Writers in Arms: For our brothers and sisters in the world", October, 2021.
"New Latin Wave: Extrañamiento: Estrangement" poems feature in an audio experiment commissioned in collaboration with Mosty Gallery Wales. Music composed by Sokio. Montez Press Radio. June, 2020.
Una mirada detrás de los libros. A conversation about Historia privada de un etcetera with Libros del Fuego. May, 2020.
Reading at the Bowery Poetry Club. New York, July 2019.
En Construcción. Reading of Latin American Writers. Astoria Book Shop. Astoria, May, 2019.
Lectura de amor y desamor. Bronx ID Studio Theatre. Bronx. January, 2019.
CRUSH Reading Series No. 8. Woodbine, New York. November, 2018.
Enclave Literary Series. College University of the City of New York. November, 2018.
MFA in Creative Writing Program Farewell Reading. King Juan Carlos Center. New York University, New York. May, 2018.
Iowa International Writing Program 50 Anniversary. The Poets House, New York. November, 2017.
Poetry Reading. McNally Jackson Books. November, 2017.

Us and Them Reading. Molasses Books, New York. October, 2017.

Poetry Reading at Experimenta/Sur. Librería la Madriguera del Conejo. Bogotá, 2016.
Primera prueba, lectura con José Ignacio Benítez. Biblioteca Los Palos Grandes, Caracas. 2016.
Poetry Gala of the Bogotá International Book Fair alongside Cees Noteboom, Piedad Bonnet, Avilio Estévez, Julián Herbert, and others. Abril, 2016.
Book presentation Antología poética de Manuel Vilas by Venezuelan publishing house Barco de Piedra. Lugar Común Bookstore. November, 2015.

"No hay mancha en ti", a performative reading alongside poets Víctor Manuel Pinto and Daniel Oliveros. Encuentro Internacional Poesía of Universidad de Carabobo. Valencia, Venezuela. November, 2015.
IWP Reading. Mellow Pages Library, Brooklyn NY, 2014.
Reading and conversation at the US Library of Congress, Washington DC, 2014. Watch it here.
Reading at the Meridian House. A collaboration with dancers of Company E. Washington DC, 2014.
Poetry reading at Prairie Lights Bookstore, Iowa City, Iowa, 2014.
Iowa City Book Festival. Iowa City, 2014.
Anthology Reading Series. Writers Workshop. City Park. Iowa City, 2014.
IWP Reading. Adobe Books, San Francisco, California, 2014.

Reading at the Shambaugh House, International Writing Program. Iowa City, 2014. Listen to it here.